A Blackstone Griddle is the perfect barbecue grill if you love hosting gatherings and grilling plenty of delicious food. These grills are worth the money, but it is important to know the best recipes to cook on them in order to get the most out of the appliance.
Below, you'll find 15 of the best recipes to try out on your new Blackstone Griddle. You'll have mastered them and be ready to host many outdoor gatherings in the upcoming summer weather!
1. Ribeye Steak
Almost everyone loves this classic main meat, so you'll want to cook it precisely right. The Blackstone will make that job easier by giving you precise control over the grill's temperature. The added grilled taste the barbecue provides will only enhance the overall flavor.
Before grilling your steak, add a little seasoning of your choice. A sprinkle of salt and pepper is perfect, though some might prefer adding more flavorings. Once the ribeye is perfectly seasoned to your likening, place it on the grill.
You'll want to flip it fairly often to ensure that you don't overcook either side of the steak, but don't be so quick to turn it that it doesn't have time to brown correctly. If you prefer your ribeye more well done, leave each side down for longer to cook. If you like it on the rare side, give less cooking time to keep it pink.
You can use this simple cooking method for any steak, but ribeye steaks are perfect for grilling because they don't take much time, and you don't have to do any work beyond seasoning and flipping!
With the Blackstone's expansive cooking surface, you'll be able to cook multiple ribeye steaks at once and move between flipping them all. This makes them an ideal meat dish to serve at a large gathering. When the steak looks good to you, please remove it from the grill and give it a few minutes to cool down before serving.
2. Grilled Salmon
For those who prefer a fish dish, grilled salmon is both delicious to eat and easy to cook. Fresh salmon filets will be bursting with flavor that the grill will only add to, and, like the ribeye steaks, you can cook several on the Blackstone at once.
Season the salmon to suit your taste, then place it on the preheated grill. Some of the best seasonings to add to salmon are dill, parsley, sage, and lemon juice, though you can add spicier herbs for a little extra kick. It would help if you always preheated your grill so the food could start cooking immediately.
Turn the salmon regularly to ensure that you cook all sides of it, trying not to overdo them. You should notice the original orangey color of the fish turning a pale pink as it cooks, with the very top of the filet becoming a little crispy. The best texture for a cooked piece of salmon is soft enough to cut through easily. If the salmon feels rubbery or tough, remove it from the grill because you've likely overcooked it.
When done, give your salmon filets a little time to cool before serving. Also, carefully peel the silver skin off the bottom of the filet. This is considered safe to eat, but you might prefer not to.
If you want to make more of a meal out of grilled salmon, chop up the filets and put them in a sandwich with some mayonnaise and salad. Salmon filets are pretty flexible because you can do different things with them, but they are just as tasty when served straight off the grill.
3. Chicken Breasts
These are another easy meat dish that you can prepare on your Blackstone Griddle with as little fuss as possible. Again, you can fit several on the grill at once and allow the heat potential of the Blackstone to do all of the work.
It would help if you seasoned your chicken breasts before you put them on the preheated grill unless you'd prefer them plain. Salt and pepper are subtle seasonings that add good flavor, though paprika, garlic, and cayenne pepper are also interesting accompaniments.
Once seasoned, place your chicken breasts onto the grill. Both sides should start to turn golden brown, and the inside of the breast should be completely white with no traces of pink. Adding a little olive oil to the grill will help to keep the skin moist as it cooks because you don't want your chicken to dry out.
When you're satisfied that you've cooked your chicken breasts, remove them from the Blackstone and plate them up. You could serve them over a simple salad or portion of rice, though they're just as good on their own.
4. Smashed Potatoes
These are an ideal side to serve at a large gathering because they can be paired with absolutely any meat, fish, or vegetarian dish. They're also easy enough to cook to perfection on a Blackstone grill because there's space for you to cook them in bulk and get them nice and crispy.
Baby potatoes are the best potatoes for a smashed potato dish because they can be, as the name suggests, broken, just suitable for maximum flavor. Boil the potatoes, leaving the skins on, and then season them with dry herbs. Herbs like rosemary and thyme are perfect, as are salt and pepper. Avoid adding any moisture because this will prevent them from crisping up properly.
Be patient with the potatoes because they'll take some time to cook just right, but you won't have to do a lot of work while they do. The insides of the potatoes should be fluffy and the skins crispy and seasoned. Keep an eye on them and flip them occasionally.
If you're cooking for many people, this side dish will help you serve them all. And if you have leftovers, store them in an air-tight container in your refrigerator to eat at another time!
5. Griddled Vegetable Skewers
Another faultless side dish that you can master in no time on the Blackstone is a plate of griddled vegetable skewers. You can use almost any vegetables, but we recommend a medley of bell peppers (any color), onion (red or white), zucchini, and mushrooms for a simple but tasty side.
Chop the vegetables into slices, then place them onto skewers. Try to get a good mix of vegetables on each skewer because the different flavors complement each other and make each portion extra tasty. You can also add a little olive oil if you like. After that, place each skewer on the grill and allow them to start slowly browning.
Turn the skewers occasionally so they are grilled equally on both sides and don't stick to the skillet. When they're done, take them off the grill and arrange them neatly on a plate to serve. The vegetables should be soft to eat and crispy in places but not harsh or burdensome. A slight brown color is good because the vegetables won't be overdone.
If you'd instead serve your vegetables as a more superficial side, remove them from the skewers after cooking and place them into a bowl. This way, people can take portions of whatever they'd like.
6. Bacon Cheeseburgers
Burgers are a staple barbecue, so this Blackstone bacon cheese burgers recipe will help take your grilled burgers to the next level!
The best way to cook an excellent bacon cheeseburger is to break it down into its three main components. You'll start cooking the bacon first because that will need the most time to get perfectly crispy. All you need to do is place the bacon pieces on a medium-low heat setting and flipping them to cook both sides thoroughly.
When you see your bacon starting to crisp up, add the burger patties to the Blackstone after making them yourself or buying pre-formed patties from the store. You can season them if you like, but it's not essential. Like with the bacon, keep flipping the cakes over until both sides are grilled brown and smell amazing.
Some people like to add the cheese to the burger once the bacon and patties are cooked and off the grill, but if you want to grill the cheese as well, you'll need to add it to the patties when they've just got a few minutes left. The cheese should melt onto the burgers perfectly.
When everything is cooked, remove the food from the Blackstone and start constructing your burger inside a brioche bun. If you want to add anything else, like salad or onions, place it inside and provide a side sauce in case anyone wants it. After that, enjoy your bacon cheeseburgers!
7. Steak Quesadillas
This recipe is perfect for steak lovers, especially since it lets you get another dish out of your leftover steak. The flat-top grill of your Blackstone Griddle is ideal for cooking these, too, so you have them done in no time.
Go for a medium-high heat for these because you want your steak heated thoroughly but not overdone. Your leftover steak should already be cooked and sliced up, so all you're doing is heating it. Adding your favorite seasoning is an option if the leftover steak is plain.
A few minutes should be all that the steak needs to be heated through. When it is, add the tortilla and some shredded cheese to the top, then repeat the process with another layer of steak, tortilla and cheese. You want your quesadillas to have transparent layers and for the cheese to melt perfectly between the meat and tortillas.
The Blackstone should grill all three components nicely and leave them plenty warm to eat. After cooling for a few minutes, organize your steak quesadillas on a plate and serve them up. This recipe is simple but delicious and helps to prevent leftover food waste.
8. Baked Potatoes
These are other staple foods you can cook to please anyone's tastes because they're perfect with a wide variety of toppings. If you've got all the toppings, you need to bake the potatoes on the grill and then serve them up.
Before putting them on the grill, you must slice your potatoes and boil them. The insides should feel fluffy. You can rub some olive oil and herbs onto the potatoes before transferring them to the grill for an additional kick.
Preheat tPreheat to high heat and leave your potatoes on it for approximately ten minutes, turning them over halfway through to grill both sides. A pale brown crispy outer layer should tell you they are done and can be removed for serving.
Recommended toppings include shredded cheese, sour cream and chives, smoked salmon, and baked beans. If you'd instead bake potatoes as a side dish, slice and bake baby potatoes and add toppings the same way afterward.
9. Shrimp Fajitas
This dish seems less classic barbecue, but it doesn't take long to cook on the Blackstone. You'll have to do some preparation work beforehand, but the cooking process should go smoothly.
You should produce a seasoning and add it to the shrimp before they touch the grill. We recommend using chili powder, garlic powder, and perhaps a pinch of salt. Either sprinkle this mix onto the shrimp or roll them in it until they're fully flavored.
Preheat your grPreheatedium-high, then place the shrimp down for cooking. Keep turning the grill on both sides and check that the shrimps are pink before you take them off the heat. They should sizzle to let you know that they're cooking through.
You can follow the griddled vegetable recipe from further up to cook the vegetables that will also go in the fajitas. Bell peppers and onions will go perfectly with your seasoned shrimps in some soft tortillas. You'll have to cook several things at once, but bringing all the ingredients together will leave you with a satisfying main dish.
10. Fried Rice
Fried rice is another dish that you can reproduce perfectly on your Blackstone. Start by heating your grill to medium-low heat, then add some oil and beaten eggs. The heat will get to work on cooking the eggs straight away.
For the perfect fried rice, add diced vegetables to the flat-top and make sure that they're properly mixed in. We recommend choosing onions, peas, broccoli, bell peppers and carrots, though you can add and remove different vegetables to suit your preferences.
Stir the mixture gently but well so that the rice and vegetables continue to mix in thoroughly. As the mixture starts to crisp up, add the rice vaguely. After a few minutes, check your rice to see if it's edible. If not, give it more time.
Once you are sure that the fried rice is done cooking, remove it from the griddle and add any extra flavoring that you might want. A lot of people add soy sauce, but the eggs and vegetables provide plenty of taste by themselves. This side dish pairs brilliantly with both meat and fish.
11. Pasta Primavera
Pasta is an easy meal for many, so why should it be different when cooked on a Blackstone grill? You can use the flat-top to boil a pan of water and perfect your pasta without any hassle, which gives you plenty of time to dice up the vegetables.
Some of the best fresh vegetables in pasta primavera include red onion, zucchini, carrots, garlic, tomatoes, and broccoli. It would help if you cooked them on a separate burner while the pasta was still boiling. After that, combine everything on the grill.
The pasta should still be a bit wet from the boiling pot because that water will help to form a sauce. Add some dried Italian seasoning, a squeeze of lemon juice, and some parsley to finish it. A sprinkle of parmesan cheese will top this dish off perfectly!
12. Pulled Pork Sandwiches
You can't go wrong with a sandwich, especially one that you've griddled to perfection on your Blackstone. For best results, preheat it to medium-low heat, then work on shredding the pork you will use.
Add the pork to the skillet and start to brown it. Turn the pieces often enough that you cook the meat all the way through without overdoing it. The pork should be hot all the way through as well. You'll want it to feel tender, not rubbery.
Choose some soft bread for your sandwiches and put the pulled pork into that. You can top it off with some shredded cheese or a sauce of your choice for extra flavor, and then sit back and enjoy.
13. Pancake Medley
The flat-top grill of the Blackstone is perfect for cooking this tasty dessert. Not only that, but you can make an entire medley of different flavor pancakes all at the same time without any extra work, so long as you have the ingredients.
The first step is to make a plain pancake with pancake mix on the flat top, exactly as you would in a pan. Mix up milk, flour, egg, sugar, butter and baking powder for a delicious base, then let the Blackstone cook them. We recommend making a medley of chocolate, banana and blueberry pancakes.
For chocolate pancakes, either add chocolate chips to the mix or use chocolate powder to flavor the entire pancake. For banana pancakes, chop or mash up bananas and add them to the mix. And for blueberry pancakes, wash a handful of blueberries and then sprinkle them in.
You'll be able to cook three different pancakes on the Blackstone at the same time and then stack them up to serve. If you want some plain pancakes as well, follow the same base recipe and then don't add the chocolate, bananas or blueberries. A squeeze of lemon and a sprinkle of sugar on top might be all the flavor you need!
14. Griddled Fruit Salad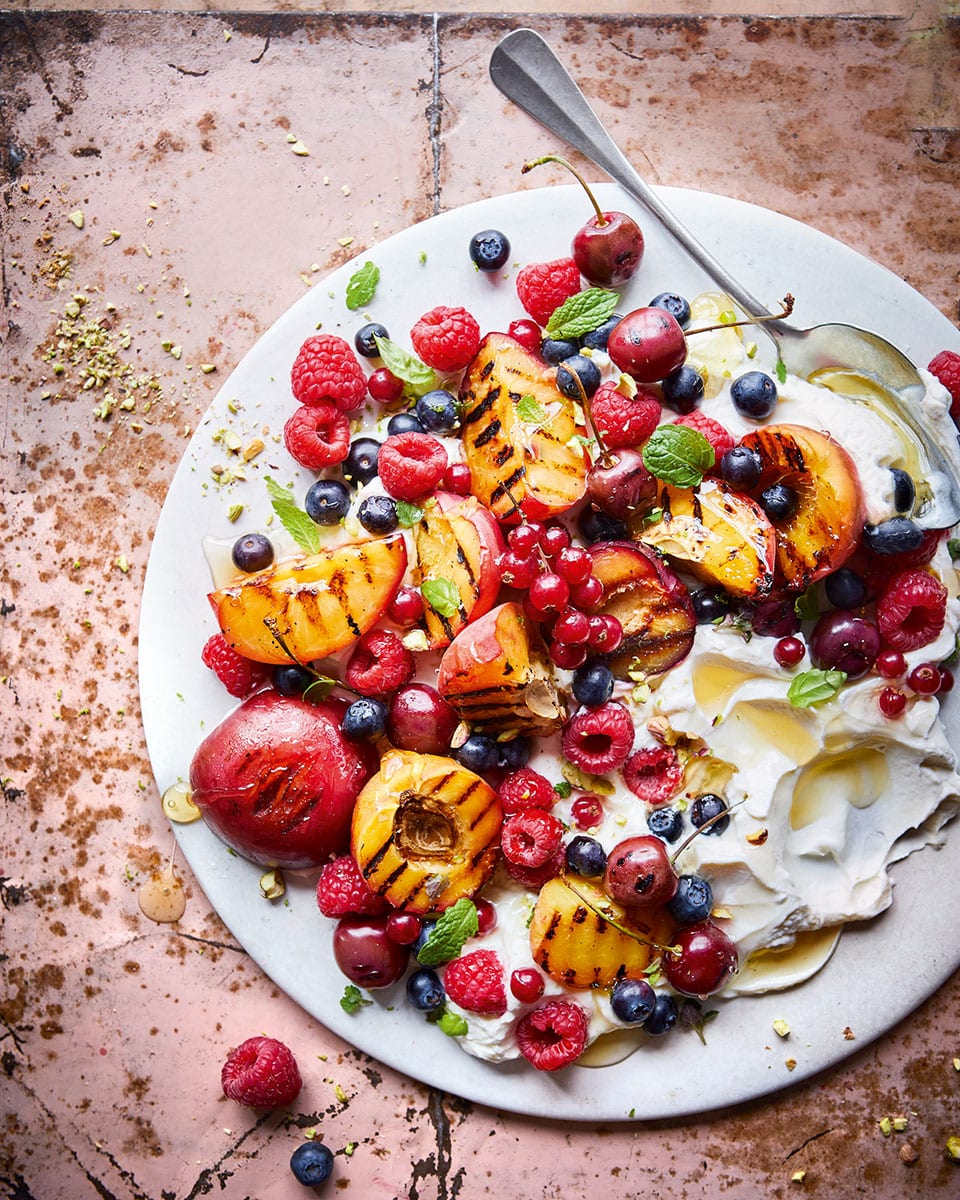 This dessert is a healthy alternative that you can whip up on the Blackstone just as easily. We recommend using peaches, pineapples and nectarines for this because you'll retain the sharp bite of the fruit, while also adding a crispy outer layer.
Slice up all the fruits into sizeable portions and place them on the griddle. As with the griddled vegetables, you can add a little olive oil to help the griddling process. You'll notice grill lines starting to form on the fruit as the outsides crisp up.
After a few minutes, remove the fruit from the Blackstone and check that the peaches, pineapples and nectarines are still soft on the inside. You shouldn't need to leave them to griddle for longer than four or five minutes because you don't want the insides of the fruit drying out.
For a sweet accompaniment, you could serve your griddled fruit salad with the option of honey, yoghurt or ice cream, though the grilled fruity flavor is exquisite enough without anything on top.
15. Mini Cheesecakes
Making any sort of cake on a flat-top grill will take some extra work, but once you've got the recipe committed to memory, you'll be ready to whip up some mini cheesecakes for the ideal light dessert.
Create a mixture of sugar, egg, cream cheese and vanilla by beating all of the ingredients into a batter with a whisk. Then, scoop the mixture into small cupcake cases and place them in a cupcake pan on the griddle.
Choose a low heat setting for these because you have to be careful not to overcook cakes, otherwise all the moisture will be lost. Ideally, you should cover the cupcake pan with a lid to help them bake on the griddle and then leave them covered for approximately fifteen minutes.
Check on your cakes and if they are starting to rise (with no cracks), cover them for another fifteen minutes. Note that baking times are approximated, so it might take a few attempts to get this recipe just right. The finished mini cheesecakes should be puffed up and soft, then left to cool before serving. You could add some fresh berries for a sweet or sharp accompaniment.
Using the Blackstone Griddle
Whether you want to cook meat, vegetables, sides, or even desserts, this grill can do it all. You'll be able to prepare endless tasty dishes for your guests and host gatherings with ease. Ensure that you keep your Blackstone clean, sheltered and maintained in between to retain its excellent quality for when you want to cook.
Before attempting any of these recipes, though, you should try to get to know your grill. Blackstone Griddles have large cooking surfaces for the food, four different independent burners and an average cooking temperature of approximately 600-640 degrees Fahrenheit when switched onto the highest heat setting. With so much potential, you'll have plenty of help from the grill when it comes to cooking your food to perfection.
Conclusion
The Blackstone Griddle might look like a technical grill at first, but it really isn't difficult to use, especially when you've already mastered a variety of different recipes.
With all the recipes included in this article, you could easily host a three-course barbecue for all your friends and family! As soon as you've figured out exactly how to best handle the Blackstone, you'll be ready to cook all fifteen of these recipes and then progress onto even more.